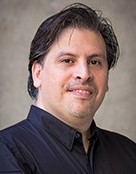 Research Interests:
Wireless sensor networks
embedded networked systems
cyber-physical systems
computer networks
distributed systems
operating systems
Bio:
Alberto Cerpa is an Associate Profesor pf of Electrical Engineering and Computer Science. Professor Cerpa's broad interests lie broadly in the computer networking and distributed systems areas. His recent focus has been systems research in wireless sensor networks, with emphasis in wireless radio channel measurement and modeling, link quality estimation, routing algorithms, topology control, and programming models. Professor Cerpa is also interested in Internet protocols and operating systems issues. In the past, he has been involved in active networking, mobile IP, and protocol design and verification research.