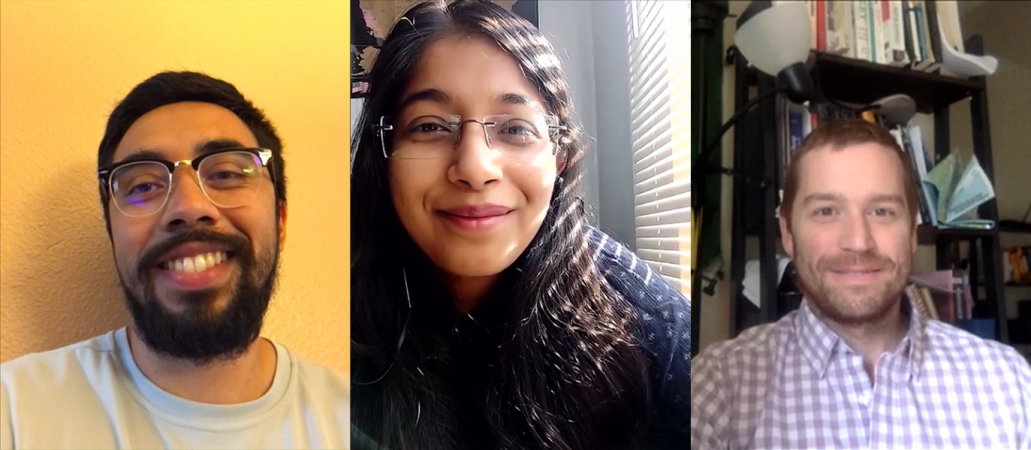 Despite the challenges that have been brought on by the coronavirus pandemic, UC Merced graduate students Ketika Garg, Matthew Turner and Carlos Diaz Alvarenga have demonstrated just how resilient Bobcats are by having their papers accepted to notable conferences.
The three  are part of the National Science Foundation (NSF) Research Traineeship (NRT) Intelligent and Adaptive Systems Program (IAS), a program that is designed to encourage the development and implementation of bold, new potentially transformative models for STEM graduate education training. Within the NRT-IAS program, students work on interdisciplinary group projects to tackle complex data.
Garg, a third-year Ph.D. student in the Cognitive and Information Sciences Graduate Group, had her paper accepted by the Annual Meeting of Cognitive Science Society (Cogsci2020), which is scheduled to occur virtually this year  July 29 through Aug. 1.
In her paper, Garg takes a closer look at how foraging for resources within a virtually composed Himalayas can provide insight on identifying factors seen in search strategies. A patch of the Himalayas was recreated by using Google Earth and the Unity 3D platform, and "players" from Mechanical Turk explored the  Himalayas with different parameters.
"This is my first paper submission and conference talk, so it is very exciting for me," Garg said. "I look forward to getting my work out there and getting feedback on it, so the conference would be a good first step."
Turner, a fourth-year Cognitive and Information Sciences Ph.D. student, also had his paper accepted to the Annual Meeting of Cognitive Science (Cogsci2020). Matthew's research focuses on understanding the social and cognitive foundations of how opinions change. His paper delves into the topic of "group polarization," and how it can emerge within the group due to "stubborn extremism". Turner plans to further develop this project by developing, running and publishing the results of more experiments to understand if stubborn extremism is really a major factor in polarization within a group.
"In a sense, this talk marks my entrée into the cognitive science community, which I hope to remain a part of for some time," he said. "The fact that these first conference proceedings have been accepted gives me confidence that as I develop this project more the necessary journal articles will come."
Diaz Alvarenga, a soon-to-be third-year Electrical Engineering and Computer Science Ph.D. student, was invited to give a talk at the Institute of Electrical and Electronics Engineers International Conference on Robotics and Automation in Paris this summer, but it is scheduled to take place online.
His paper discusses patrolling and surveillance of multiple robots in a given area. It discusses how multiple agents would organize themselves against an attacker by using different methods of programming such as heuristic, non-partitioned and linear. He is working on his video presentation video to submit in place of the original presentation.
"Having the paper accepted at the conference means that the community believes the work  my adviser Dr. Stefano Carpin and I have been doing is a significant contribution to the literature as the conference is a top venue for robotics," he said. "This brings me] closer to becoming an independent researcher who knows how to formulate challenging problems, and consequently, build and run the tools to solve said problems."
Ketika, Matthew and Carlos are among the many students who continue to persevere during the difficult time brought on by the pandemic. For more information on the conferences, visit Cogsci2020 and IEEE International Conference on Robotics and Automation.
---