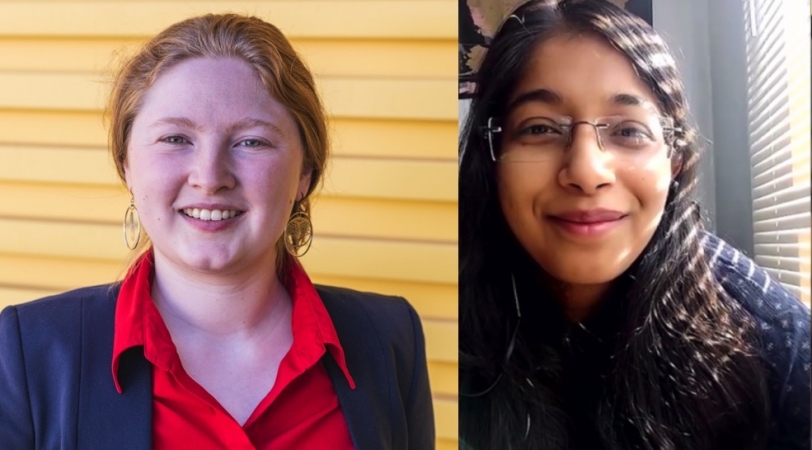 Among the University of California's 26,000 graduate students, National Research Traineeship (NRT) fellows Ketika Garg and Shayna Bennett have both received awards in UC systemwide competitions that demonstrate their research excellence.
Fourth-year Cognitive and Information Sciences Ph.D. student Ketika Garg  is the recipient of the UC Guru Gobind Singh Fellowship for 2021-2022, a systemwide competition in which all 10 campuses are invited to nominate eligible graduate students. The fellowship provides $30,000 in support.
"I am very grateful and honored to have received this award that was established in the name of a great spiritual leader  to help out Indian students who are not eligible to apply for most of funding opportunities available to U.S. citizens . I feel very lucky to have been eligible for this fellowship and I hope that other international students can get similar opportunities in the future," Garg said.
Bennett, a fourth-year Applied Mathematics Ph.D. student, won first place in the UC Grad Slam Finals on May 7. Bennett, in addition to receiving the first place trophy, the Slammy, received a $7,000 prize.
Bennett presented her dissertation research, "A New Tool to Fight Invasive Species," in a three-minute video. She studies numerical methods for partial differential equations to understand how landscape features such as rivers, roads and mountains affect the spreading rate and pattern of invasive species.
Bennett has participated in UC Merced's Grad Slam for three years and stated that "seeing all this work culminate in not just a win, but the first UC Merced systemwide first place is thrilling." She hopes to develop workshops next spring for graduate students interested in participating in Grad Slam for the first time.
Garg and Bennett are collaborators on an NRT project in which they analyze Lévy flights in heterogenous landscape through two perspectives — probabilistic and partial differential equations. It focuses on how changes in elevation can impact invasive species spread, such as in a mountain range.
"I think her and I both winning an award for our research plans highlights the relevance and importance of the research that we are doing, and that is very encouraging for our NRT collaboration," Garg said.